NetGame
NetGame: Beautiful Online Slots from Ukraine
NetGame has a reputation for creating colorful games with immersive graphics and titles that spur you to want to play. This quality also extends to the versatility of its products. NetGame's offerings are playable on multiple operating systems like Android, IOS, Windows, and even Linux. Beyond that, when you play NetGame's titles, you are exposed to several in-game features that can increase your winnings.
Features of NetGame Slot Machines
A common feature in most of NetGame's products is the Hold 'N' Link. The Hold 'n' link is a bonus feature that gives players the chance to win through multipliers and jackpots. Speaking of winnings, it is worth also noting that NetGame products have high RTPs with fair hit frequencies.
Striking graphics: the most distinctive quality of NetGame's products is its high-definition graphics. The slot machine from NetGame's brand no doubt places huge importance on the aesthetics of its products.
Game's versatility: In this age where mobile gaming is fast becoming a norm, it's important for software providers to create games that are not limited by device. That said, NetGame's product can be played on most device platforms.
Range of titles: For a software provider that focuses on video slot games, there could be the temptation to clone game themes and titles. That's not the case with NetGame. Their games cover a broad range of themes and interests.
Multiple game features: The least number of game features you will find in NetGame's products is three. This attests to the rewarding nature of NetGame's offerings.
Soothing sounds: Sounds are important to set the atmosphere for a great game session. The slot machine by NetGame's have just the right sound accompaniments to aid the experience of gamers.
Top Slots in NetGame's Portfolio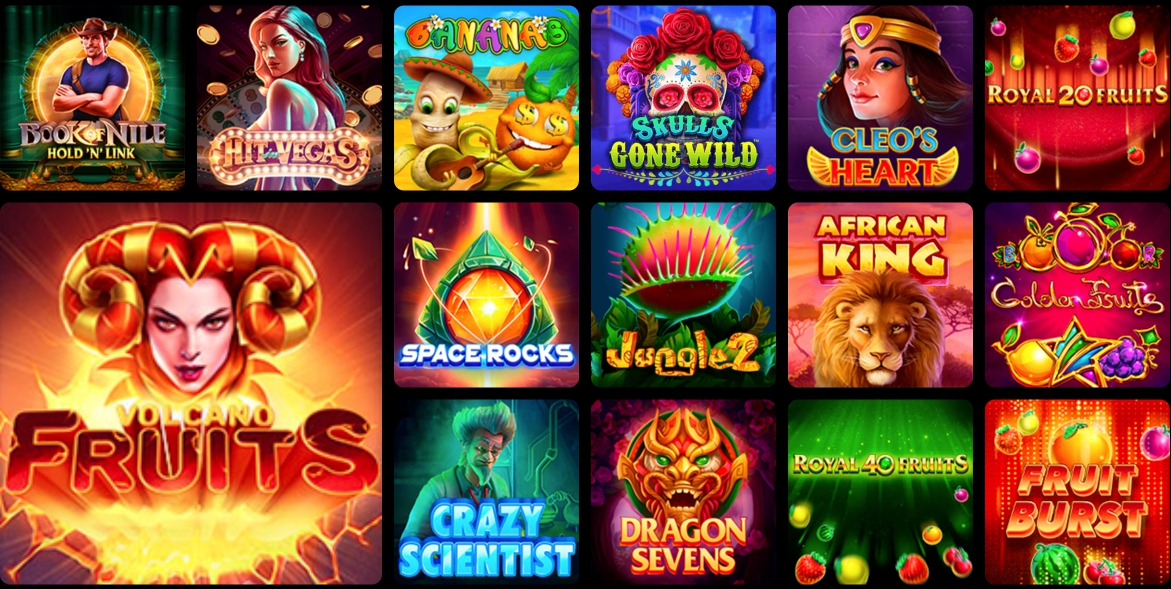 Dancing Lanterns: NetGame's dancing lanterns is a 5×4 slot layout with 50 pay lines and 5 reels. It's medium volatility with an RTP of 95.02% and a hit frequency of 30.57%. This game has features such as Wild lanterns, Lanterns Booth, Free spins, Pick'em bonus, and a big win. It can also be played on Linux, IOS, Windows, and Android devices.
African King: This is an HTML5 video slot game that has several game features like free spins, stacked wilds, Hold 'n' Link, Bonus, and Jackpots. It's a 3×5 slot layout with 5 reels, 50 pay lines, and medium volatility. African King has an RTP of 95.95% and can be played on Windows, IOS, Android, and Linux devices.
Book of Nile: This is yet another popular game from NetGame's portfolio. It's a 5×3 slot with 10 pay lines and 5 reels. It has a maximum win base game of x6000. This video slot game has an RTP of 95.32% and a hit frequency of 30.08%
Golden Skulls: This is a 5×3 slot machine from NetGame with 5 reels and 10 pay lines. It has a maximum win of up to x2582 and high volatility. This game has an RTP of 95.27% and a hit frequency of 22.69%. Players who play this video slot will enjoy bonus features such as Re-spins, Pick'em bonus, free spins, wilds, scatters, etc.
Diamond Shot: This is an HTML5 game with a slot structure of 5×3, having 5 reels and 30 pay lines. It has medium volatility, a hit frequency of 51.51%, and an RTP of 96.26%. This game has fantastic features such as Pick'em Bonus, Free spins, etc.
Pros and Cons
Pros:
HTML5 games with impressive audio and visual qualities;
Multiple game features;
Games support multiple currencies;
Over 90% of game RTPs;
50+ games in the market.
Cons:
Focuses only on slot games;
Games don't support multiple languages.
NetGame was founded in 2012 by a group of brick-and-mortar casino experts who came together to create a brand committed to making products that deliver a great gaming experience. Over the past 9 years, NetGame online games have increased to over 50 titles with diverse themes. NetGame is based in Kiev, Ukraine.